Designing Foundations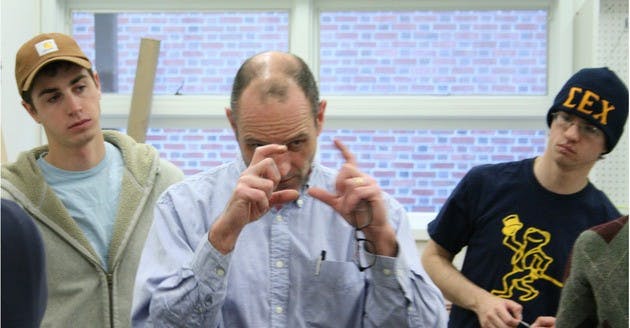 I t's like an underground movement at Dartmouth. Though the straightforward majors of economics, government and English still abound on campus, there is a lesser know group of students who have found a passion in the study of architecture. Because Dartmouth is a liberal arts school, pre-professional majors are a no-no. (Incidentally, this is why the crazy overachiever who lives next to you can justify being a music and anthropology double major, as well as pre-med). Still, students interested in architecture have formed their own community, choosing classes that will prepare them for graduate school and allow them to study the field they find most interesting.
Though Dartmouth does not have a formal architecture program, Career Services does provide a webpage of resources for the aspiring architect at Dartmouth. The information provided, however, is rather limited and includes only a handful of information about scholarships and accredited architecture schools. It does, however, also have a link to the website of Arc@D, a student organization that attempts to fill the hole in guidance for students interested in architecture.
Anne Liu '08 is the president of Arc@D. Liu explained that Arc@D attempts to change the nature of these students, who may have different majors and therefore never come in contact with one another. "It's so spread out," Liu explained. The architecture studio's remote location on the second floor of Clement doesn't help (that's behind the Hood Museum of Art).
Arc@D also invites speakers from other schools to Dartmouth, and helps students get internships, especially with local firms. Arc@D's website also includes a lengthy list of resources for students, ranging from alumni connections to various architecture firms and magazines. There is also a list of relevant courses offered at Dartmouth, spanning studio art, engineering, art history and even environmental studies and geography.
Liu herself is interested in pursuing a career in architecture. She has used the lack of an architecture major at Dartmouth as an opportunity to major in studio art, concentrating in sculpture. "There's a definite intersection between sculpture and architecture," explained Liu.
She also has interned in the architecture field and attended the Career Discovery Program at Harvard's Graduate School of Design, an intensive six-week program that introduces students to the study of architecture through lectures, field trips, drawing and model-making. Though Liu is aware that Dartmouth supplies less structure to a student interested in architecture than a large university, she actually prefers the diversity of academic experiences available at Dartmouth.
"I think there are a lot of advantages, being at a liberal arts school," said Liu. "Pulling from different disciplines is definitely a draw."
Alex Fidel '09 also has used Dartmouth's interdisciplinary opportunities to his advantage, taking classes in studio art, art history and even comparative literature pertaining to architecture.
While taking Introduction to the History of Architecture (Art History 4) in his freshman winter, Fidel approached his professors about his interest in architecture as a major, even though the College does not offer one. "When I went in and told professors Allen Hockley and Marlene Heck [I was interested in architecture] they helped me design an architecture major," Fidel explained.
After taking Architecture 1 in the studio art department, however, Fidel decided that the field of architecture practice was not for him. "I have a great respect for anyone who goes through it," he said. "Art majors at this school really sit down and crank out a lot of work."
Nevertheless, Fidel continues to pursue his interest in architecture in different ways. During his sophomore spring, Fidel worked for the Hood, preparing an exhibition at Rauner Library on Andrea Palladio's books of architecture. Fidel is currently taking a class in comparative literature on cities. Fidel explained that the class "breaks down architectural elements of cities, which change from place to place... There are so many angles [from which] you can look at a building. You can study them in so many ways."
Hayley Kennedy '08 is a studio art major planning on pursuing a career in architecture. "It's what I want to do with my life," she explained. Like Liu, Kennedy has decided to concentrate on sculpture because of its close relationship with architecture. "I'm focusing in sculpture with architectural concepts behind my work," she said. "Some people choose to do ENGS [engineering sciences] modified with studio art, but that's really for people who want to be on the structural side rather than the design side."
Still, Kennedy is glad she chose a liberal arts school over a larger university with pre-professional options. "I can do what I want, when I want with my undergraduate experience... I can be completely creative and completely unbiased. I'd have to be roped in so quickly [in a pre-professional program]."
One thing Kennedy might regret is not going to an art and design school, though she realizes the community would have been much different. "The thing I get out of Dartmouth is the human connection which I'd miss at another place," Kennedy reflected.
All of these students agree that Jerry Auten and Karol Kawiaka, studio art professors who teach the College's three architectural design courses, are a valuable resource. Kawiaka was also in charge of modernizing the computer lab, ensuring that students have all the tools needed to study the kind of design methods that is relevant to the architectural practice today. "Karol Kawiaka really worked hard to get a computer lab going. It's a really full computer lab over there now," said Auten.
Auten explained that there are some courses Dartmouth students interested in architecture naturally take, including Architectural Design 1 through 3, drawing and sculpture classes within the studio art department, as well as engineering and art history classes. Some other aspects of a good preparation for an architecture school and career are sometimes overlooked at more narrowly-focused pre-professional schools.
"I'm not kidding you," said Auten, "A lot of us when we went to architecture school, myself included, weren't good writers."
Marlene Heck, a professor in the art history department at Dartmouth, focuses on the history of architecture in her classes. "The first thing I tell [students interested in architecture] is that they are at exactly the right place to start their study of architecture," said Heck. "Learn to think critically, learn to write, learn to present your ideas... You so seldom have the time to focus on being an educated person [elsewhere]."
Heck believes that the study of the history of architecture is important for any educated person, but particularly useful for one interested in pursuing a career in architecture.
"We live our lives in buildings and they have a tremendous effect on our lives," she said. "The history of a culture is written into its buildings." Heck explained that through the study of architectural history "you get a vocabulary; you learn to speak in the language of architecture."
Auten also emphasized the importance of the art history department as a potential resource, saying "It's something you can do here at Dartmouth," that it is a discipline that up-and-coming architects might not be exposed to otherwise. He said the best advice he could give architecturally inclined students cannot be summed up within the syllabi of a few classes.
"Be a student of convention," said Auten. "Understand what convention is, where it comes from, and how to challenge it intelligently. I think that's a huge problem with architecture today."
Heck also commented on the state of contemporary architecture, citing lack of vigilance as a problem in clients and architects alike. "I would say that my general philosophy is that any building project is an opportunity to build well," she said, "and we so seldom do that."
Though Dartmouth may not have an architecture department that might directly impact the campus architectural aesthetic, per se, both students and professors interested in architecture have favorite Dartmouth buildings that inspire them. "I really like Rauner Library. I like the grandeur of the inside of the space, and the impressive volume when you are inside," said Fidel.
Kennedy, however, is less excited by many of Dartmouth's exteriors: "I like [Dartmouth's architecture] in a classical New England way but don't think it's very interesting... The interiors and exteriors don't line up." Still, Kennedy was able to pick a favorite. "Wilson's pretty neat," she said. "It's like a little castle. It's pretty."
Heck enjoys the visual effect of Dartmouth Row, noting, "The four buildings together, it's such an exceptional collection of buildings. I can read the early history of the institution in them."
Auten chose less traditionally popular Dartmouth buildings as his personal favorites. "It's got to be a toss-up between Thompson Arena and Leverone [Field House]," Auten said, explaining Thompson's appeal in "how the beams come out of the ground... You can tell, it's just amazing."
Ultimately, Dartmouth students forge their own path in architecture during their undergraduate years, each creating an experience individual to himself -- a kind of individualism that many students here, no matter their major, may experiences themselves. Though at times architecture students would prefer a more developed program, it's clear that the Dartmouth liberal arts experience has its advantages, including an enthusiastic faculty, hard-working peers and a really pretty campus.