Twelve Things That Are Better Than Rush
It's no secret that rush is not exactly the most enjoyable one to two weeks of a Dartmouth student's life. If you've spent the first weeks of this term schmoozing brothers and sisters, you're probably in dire need of a break. And since parties on frat row are probably not bringing back the best of memories right now, here are 12 things that are better than rush:
1. A stack of warm FoCo cookies.
Courtesy of PBS via giphy.com
The only great thing about the 20 is that you can get 20 servings of gooey goodness a week. Extra points if you put some vanilla ice cream on top.
2. Free apparel.
via giphy.com
Running out of flair? Found some empty space on your Nalgene? (Let's be real, this will never happen.) Too lazy to do laundry? Lucky for you, if you search campus hard enough, chances are you'll find some free swag — and there's no such thing as too many t-shirts for clubs you're not a part of.
3. Dogs.
via giphy.com
Why spend time trying to impress the brothers and sisters of your Greek house of choice when what really matters is what their dog thinks of you? Also, dogs can always make ruff times better.
4. A short line at KAF.
Courtesy of Warner Brothers via giphy.com
Your DBA might not think so, but it's truly a miracle.
5. A stroll through Pine Park.
Courtesy of Fox via giphy.com
Fall foliage, freedom and the appearance of being crunchy? Doesn't get much better than this.
6. Dogs!
via giphy.com
Or cats. Or pigs. Maybe not cockroaches, but there are a lot of cute animals out there ready to give you some love.
7. Receiving a flitz.
Courtesy of Paramount Pictures via giphy.com
You already know
That you are so amazing
But it's nice to hear.

8. Going for a 'yak at the river.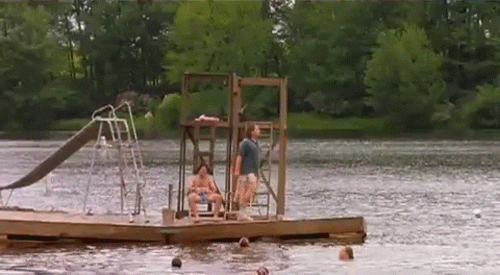 Courtesy of Eureka Pictures via giphy.com
That mid-September heat wave was a scorcher, and chances are you are going to be sweating on your way home, so why not take a quick dunk in the river? Do the Ledyard challenge, take a boat out or just jump in — you can't beat the cold New Hampshire water.
9. A post-class nap.
via giphy.com
Wait, what? Sorry, I was asleep.
10. Alternative social spaces.
Courtesy of Fox via giphy.com
I know, I know. But seriously, where else can you go for snacks, trivia and aggressively bright lights?
11. Late-night mac-n-cheese bites.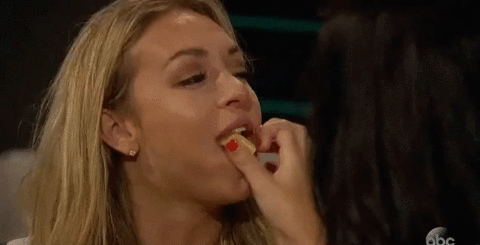 Courtesy of ABC via giphy.com
You've heard of the Freshman Fifteen, but it's really the College Can't-Stop-Eating.
12. Spending time with your friends.
Courtesy of NBC via giphy.com
In all seriousness, it's easy to get caught up in the, well, rush of rush. Regardless of whether you're about to join your sisters or brothers or you've decided to be unaffiliated this term, remember everyone who's stood by you before and during rush — because spending time with the people you love is the best time of all.