Types of Instagrams You'll See During Green Key
Ah, yes. Here we are. We have entered the szn of pastel shorts and floral rompers. The szn of darties and rallying after waking up confused and slightly tipsy at 11:00 p.m. The szn of "if I pregame my 12, will I be sober enough for my meeting with my prof at 2:30?" Yup, you guessed it. We have entered Green Key szn. Whether you are ready or not, now is time to get shit done so you can focus on alcohol consumption and taking the perfect instagram picture this weekend. In preparation for the latter, I've compiled a list of the most common Green Key instas for some inspiration. In preparation for the former, well, I hope you've started carbo-loading.
The insta that: could pass for a J. Crew spring ad
So much floral. So much pastel. It looks so idyllic and wholesome! Lol, funny. These are the types that probably have captions like a green heart emoji followed by the key emoji. You and your friends are all smiles and slightly windswept hair. You're holding non-controversial beverages like Sprite and look like you're just soberly enjoying your time at a family-friendly block party. Only you will know that two of you booted, one of you started hooking up with her TA and the fourth got lost and wasn't seen again until Sunday after that picture was taken. But hey, good cover up. Make sure your family sees it somehow! For some reason, they seem to think you aren't being responsible at college. You can tell them that you were the only one who didn't blackout before 5:00 p.m. (feel free to leave out the fact that you proceeded to blackout at 6:00 p.m.).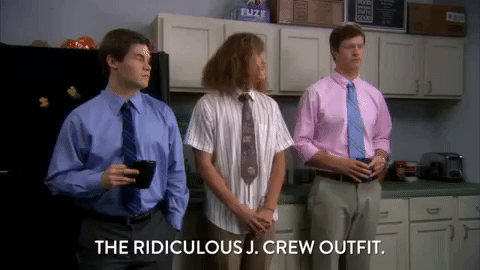 Courtesy of Mail Order Comedy via giphy.com
The insta that: is unfortunately going to have to be taken down within a day or two
It's the cutest picture, maybe a fun candid or rare picture of all of your friends that they ALL approve of. Unfortunately, however, upon closer inspection this photo is undoubtedly compromising to someone. Your roommate is passed out on Gold Coast Lawn in the background, or your chem lab partner is making out with that girl who definitely isn't his girlfriend, or your trippee can be seen doing a keg stand after cancelling plans for a group meeting at the same time because she was "not feeling well and headed home to take a nap." No matter what, you'll be getting a text sometime in the 48 hours following the post--depending on how long it takes the compromised person to get to a mental place to check instagram and recognize the problem--asking you kindly to delete that shit asap. RIP to a beautiful picture, we feel for you.
Courtesy of 20th Television via giphy.com

The insta that: makes people think you actually did went to Coachella?
If taken at the right time in the right place — and if you set the location as Coachella — people may believe you actually made it out to California for the music festival. If you ever wanted to go to Coachella (or for people to THINK you went to Coachella) now is your chance. You know you weren't at Coachella, you were stuck in your dorm that weekend recovering from yet another wave of plague and working on your econ problem set. Your non-Dartmouth friends, though, have no idea. Now is your chance. Throw on your flower crown and embrace your inner snek #Coachella2017!
Courtesy of Coachella via giphy.com

The insta that: you'll delete yourself when you wake up sober for the first time Monday morning
You vaguely remember posting some picture on Saturday night? Monday morning? You were excited to see the picture you remember as being SO good. Now that you look at it ... it's not a horrible picture … but it's definitely not good either. The casual head tilt and easy laugh you saw after two cups of batch is more of an off balanced, unstable cackle after a few cups of water and a significant hangover. Maybe you'll finsta it, maybe you'll delete it but you definitely can't leave it up on your insta — you have higher standards than that. Because you're hot. #yes #getIt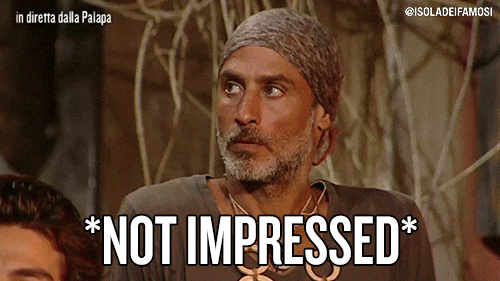 Courtesy of Canale 5 via giphy.com

The insta that: looks exactly like the three posts above and below it
You thought you had captured greatness with that within-reach-of-the-main-stage-if-your-arms-were-just-a-little-longer picture. You felt like SUCH an insider. And then you got hungry and distracted and left the stage, and I guess like six other people stepped up and got the same picture… huh. You still think yours is the best (I mean, have you seen the filtering? Professional level.) and will continue to check ratios of "likes" to confirm this belief. Side note: This behavior is not at all unhealthy. It's totally reasonable to base your self worth and ability on the number of likes you get. After all, they are a direct representation of who you are as a person (so go work on that follower/following ratio).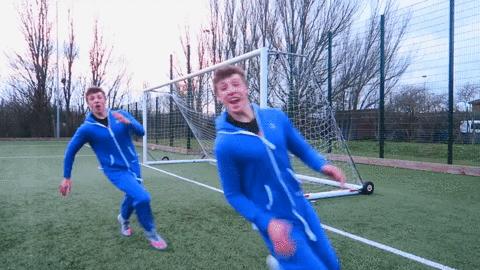 Via giphy.com