Romantic Potential of DDS Food Options
Planning where you want to grab your next meal can often be an ordeal, especially when you start estimating the concentration of people at certain times during the day. Add to the fact that, yes, you are actually trying to follow through with your lunch plans, and the chaotic lines can make you want to back out of your meal date and crawl into your bed with a tender bob. Luckily, DDS offers endless a few good selections, and each place has its own specialties that keep us coming back for more, whether it's mac 'n cheese bites, facetimey-ness or conveniently late hours. It's easy to decide when you're with friends, but what if your relationship is a little more ambiguous? Here's a brief overview of your options to navigate those romantic nuances and finally get to the bottom of what a Foco lunch ~really~ means:
1. KAF
Potential romance level: 9.5 / 10
Analysis: While it may not be officially under the domain of DDS, KAF is definitely a popular spot for flitzes to finally connect and for study sessions to turn into study dates. This is as close as you can get to a "real date" on campus – the cozy vibes and rustic charm of the food will take you back to your favorite coffee shop where you used to go with your high school S.O. Going on a date here is definitely a good sign and even if the conversation falls flat, at least you still get a chocolate croissant. You know what they say—every kiss begins with KAF.
Walt Disney Studios via huffingtonpost.com
2. Collis
Potential romance level: 9 / 10
Analysis: It's great for one-on-one conversations with a variety of options to sit depending on the mood you're trying to set, whether it's the TV room for a date with thirty other rowdy people or the bottom level for a more private talk. If you really want to spice things up, sit by the fireplace in Collis Common Ground. You could even extend the date by getting hot chocolate from One Wheelock after or throwing it back to pre-O and playing pool in 8-Ball Hall.
gifbin.com via imgur.com

3. Foco (dark side)*
Potential romance level: 8 / 10
Analysis: Dark side is perfect if your ideal date is with your crush and everyone else on the dark side who stops by to say "Hi." It's a place to see and be seen with your equally facetimey date, and with an all-you-can-eat selection, you'll never have want to leave. It's essentially a DIY version of a classy four (to eight) course meal and, if you're on a date here, that means you're at least serious enough to be seen with them in front of all your friends.
*Pro-tip: snag a side table
Warner Bros. via pinterest.com

4. Foco (upstairs)
Potential romance level: 7 / 10
Analysis: If you're sitting here because there was no space left on dark side or light side, then it's a little less romantic but still a solid spot. People often ridicule eating upstairs for being the "NARP Castle" but truth be told, being willing to inconvenience yourself for someone else by climbing stairs while precariously balancing bowls and plates of food is endearing. Since most people are unwilling to make the trek, you'll get to enjoy more privacy as well.
via tumblr.com

5. The Hop
Potential romance level: 6.5 / 10
Analysis: With an atmosphere that's nothing especially distinctive, it's a happy combination of Foco's light side and dark side without the crowd. While it's hard for a date to compete against a buffalo chicken tender queso with ranch, it's still a comfortable place to go. Much like its moderate ambience, you're more likely to take potential love interests to the Hop if you're cautious with your feelings and are still deciding between being more serious or friend-zoning them. Maybe friends with benefits?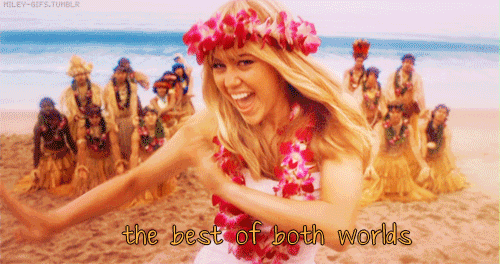 Walt Disney via wifflegif.com

6. Foco (light side)
Potential romance level: 5.5 / 10
Analysis: People seem to either really like it or really dislike it. This is a good spot for people who have a high tolerance for glaring lighting and crowds in tight spaces and don't mind having their chairs constantly being bumped into. The side tables are always taken first and the middle booths are usually occupied by larger groups, which would leave you relegated to the high tables with minimal table space. At that point, you might as well head upstairs.
NBC via wiffegif.com
7. DDS food truck
Potential romance level: 4 /10
Analysis: For romance on-the-go, DDS's new food truck just revamped their menu to include items like poutine and melts. Since it caters to a more intoxicated demographic, you're probably already on your way to and from hanging out and playing pong with them. It's a casual and fun place to snack, although without chairs, it's definitely not conducive to conversation. If you're looking for something a bit more serious, head to Late Night Collis.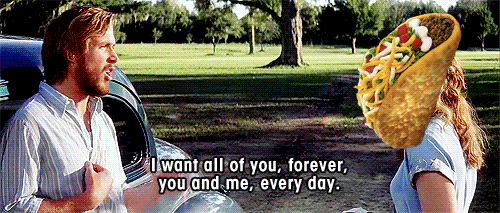 via wifflegif.com
8. Late Night Collis
Potential romance level: 2 – 4.5 / 10
Analysis: Depending on the context, Late Night Collis can vary from extremely unromantic to still pretty unromantic but passable, although you were probably en route to your date's room already and wanted to get a snack for the road. Since it's typically a hotspot for people winding down after a night of going out, it can often be the scene of some rather egregious behavior. Sharing mozz sticks and not spilling marinara everywhere will definitely send sparks flying, and if you're bold enough to go further, you might just share your favorite dipping sauce with them (ketchup, honey mustard and ranch with a dash of Tabasco).
Fox via crushable.com

9. Snack Bar at House Center A aka The Clove aka The Onion aka The Garlic
Potential romance level: 3 /10
Analysis: It has a modern, minimalist aesthetic as one of the classier grim study spots. It's always weirdly drafty inside which is perfect for getting closer to each other for "warmth." If you're getting a meal here, odds are it's a study date that devolved into procrastinating and now it's 1 a.m., and you're frantically putting together your assignment. If you want to pursue something further, your best bet is asking them for a meal at any previously mentioned location.
via AwesomenessTV.com

10. McLaughlin Snack Bar
Potential romance level: 1.5 /10
Analysis: If you're here, you're probably studying with someone in McLaughlin and stress-eating Lunchables pizza. Depending on how everything plays out, it could turn into a "study break."
TLC via blogspot.com
11. Novack
Potential romance level: 1 /10
Analysis: You're either getting dumped by someone whose workload was so grim they were planning on getting Moe's right after and then going back into the stacks, or they just really don't see you that way but love your friendship and were cruel enough to tell you in Novack. You're never escaping the friend-zone.
via theodysseyonline.com
12. Novack vending machine
Potential romance level: Sad! /10

Analysis: You have two papers and a midterm tomorrow and Novack's been closed for three hours by now. You don't have time for trivial things like friends, love or sleep. Godspeed.
NBC via reddit.com
13. Anywhere off campus
Potential romance level: 11 /10
Analysis: To be honest, anything that is not DDS seems like a super romantic date to 5-star restaurant in Paris. So lucky you - you're already in a relationship, or you're about to enter one. Happy cuffing season!
via okmagazine.com