Women's soccer wins nailbiter in 2OT at home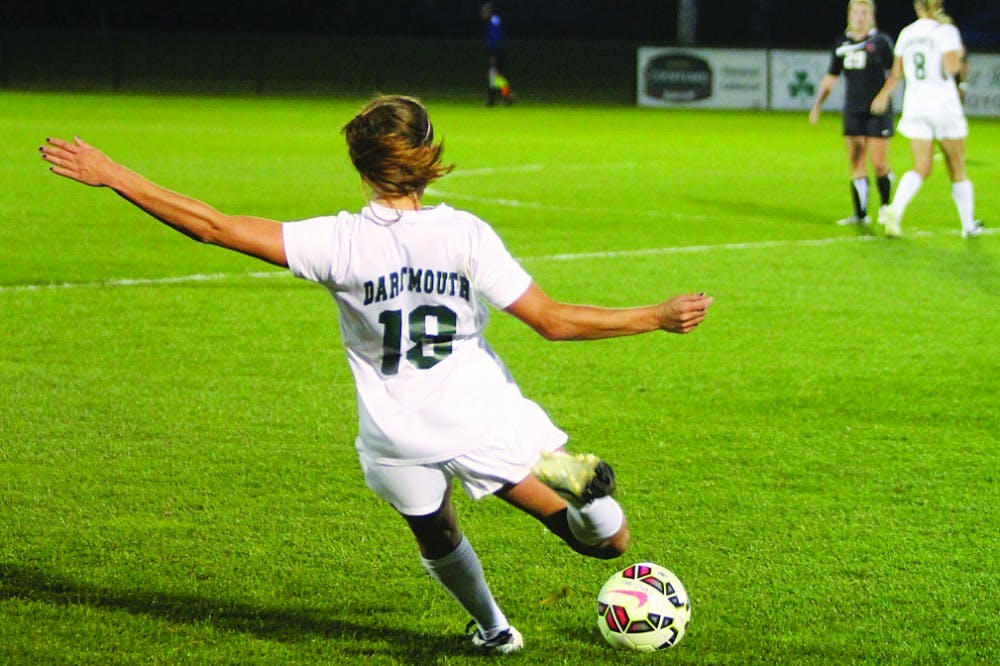 Jackie Friedman '16 lines up a free kick in Dartmouth's battle against Northeastern.
Setting the stage for a 4-0 win at the University of Vermont yesterday, the women's soccer team won a double overtime thriller against Northeastern University on Friday afternoon at Burnham Field 1-0. Lucielle Kozlov '16 netted the remarkable game-winner with just 14 ticks remaining in double overtime to extend the Big Green's home unbeaten streak to 15 games.
As the second overtime wound down, the game was still knotted at zero. Less than a minute remained when Corey Delaney '16 created a scoring opportunity for the Big Green (3-2-1, 0-0-0 Ivy) by dribbling past several Northeastern (5-3-2, 0-0-0 CAA) defenders. A through ball to Meredith Gurnee '17 drew out Northeastern's goalie, senior Paige Burnett. Gurnee then delivered a sharp pass to the unguarded far post where Kozlov deposited the ball into the empty net as her team rushed the field in celebration.
The Big Green is just the third team to notch a goal against the Huskies in Northeastern's 10 games to date. The Huskies had posted three consecutive shutouts entering Friday's game at Burnham Field.
Kozlov said crosses from the outside into the box were integral to Dartmouth's strategy to break down the vaunted Husky defense.
"We definitely wanted to make them make decisions," Kozlov said. "Definitely going [one on one] especially on the outside and getting some crosses in. We were really just trying to get a head on the ball, being the first one in the box and getting numbers into the box."
The efforts to get attackers into the box paid dividends on Sunday when the Big Green tallied four goals against the University of Vermont with two goals coming on rebounds.
Dartmouth's starting goalie Tatiana Saunders '15 missed the game with an injury, bringing Casey Cousineau '17 her first action in net of the year. Cousineau, who had four saves in the game, started two games last season for the Big Green.
"Of course, there's so many pregame jitters," Cousineau said. "As a sophomore, there's a lot less than there were my freshman year. I remember, I skyrocketed a ball my freshman year that went straight up and went nowhere."
Neither team could gain an edge through much of regulation, though both sides had opportunities at net. In the final 10 minutes, the momentum switched decisively to the Huskies, who controlled the ball in Dartmouth's third.
"I thought both teams had some opportunities today where they put some sustained pressure on the opponent," head coach Ron Rainey said. "There were some times where it seemed like we had it down in their half for two or three or four minutes and there were a couple times where they had it down in our half for two or three or four minutes."
In the 89th minute, Northeastern mounted its most serious attack of the game. Cousineau was slightly out of position when sophomore forward Nicole Wilkins saw an opportunity and attempted to place a chip shot over Cousineau's head. Cousineau got back to the goal line and managed to tap the ball up and backwards off of the crossbar, saving the Big Green from what would have been a crushing 1-0 deficit.
"We go over it so much," Cousineau said. "That's honestly one of the shots that women goalkeepers get scored on the most because it's such a tough thing for them to drop back and get that drop step and get it up over. So being able to come up with that save was huge for me and huge for my career and really, really exciting for my team."
Cousineau's save preserved the nil-nil draw heading into overtime and the Big Green took advantage. Northeastern only managed one shot in the two 10-minute overtime periods.
"You also saw some really, really good defending," Rainey said. "I think that's a fun part of our sport too, when you have people step up when they're isolated one on one."
Dartmouth created a number of chances throughout the game on set pieces, with multiple shots coming from corners. The Big Green had 10 corners compared to Northeastern's two.
Kozlov's goal was her second of the season and the second game winner of her Dartmouth career.
On Sunday, Dartmouth held on to the momentum from the Northeastern win by shellacking the Catamounts of Vermont. Dartmouth out-shot Vermont by a 21-6 margin and thoroughly controlled every facet of the game from whistle to whistle.
The Big Green next takes the field at 1 p.m. at home on Sunday against Brown University for its Ivy League opener.