Yo-Yo Ma's sold-out concert blends cultures, styles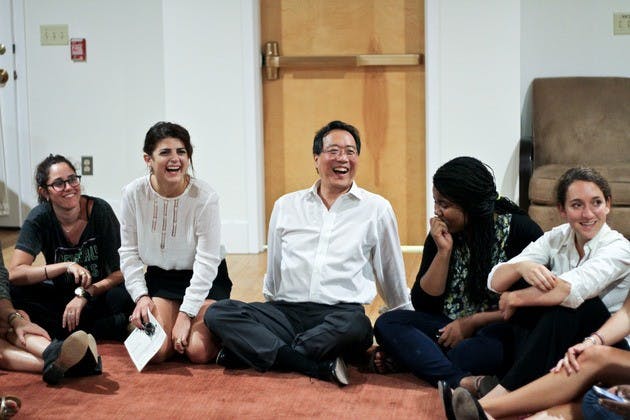 Yo-Yo Ma visited Kappa Kappa Gamma sorority following his performance to receive a tour of the physical plant and listen to house songs.
The spine of Ma's concert was three suites composed by Johann Sebastian Bach, but the remaining three pieces were 20th-century compositions that contrasted with the classical Bach suites. Before the concert, Ma introduced the program as "a meal for the imagination, like tapas but without the calories." He also incorporated elements of Dartmouth traditions to describe the pieces on his program. He renamed each of the Bach suites "Suite No. 1 in G Major," "Suite No. 2 in D minor" and "Suite No. 3 in C Major" as Homecoming, Winter Carnival and Green Key weekend, noting that each suite featured a different style and tone that matched each of these weekends.
Ma opened the concert with contemporary Turkish composer Ahmet Adnan Saygun's "Partita," a powerful, haunting allegretto that he compared to the College's motto, "Vox Clamantis in Deserto," during his introductory remarks. Following this piece was the first of the Bach suites, which Ma followed with "Appalachian Waltz," written by American composer Mark O'Connor. Ma said he played the piece "in honor of the New Hampshire fiddling tradition."
In stark contrast with the classicism of Bach's "Suite No. 2," Ma performed contemporary American composer George Crumb's "Sonata for Solo Cello." He introduced the three movements of the sonata as "wonder, experiment and action" in honor of the Hopkins Center.
"It seems very appropriate that [these are] what this center is for, and this is what liberal arts education is all about," Ma said in his introduction.
The concert concluded with an encore performance of "Mountains Are Far Away," a Mongolian folk song with a softly echoing ending note high on the cello's range so daring and compelling that it energized the audience's applause, in spite of it being only a faint whisper.
Last night's program was marked by a spirit of technical and spiritual adventurousness. The rolling, bucolic melodies of O'Connor's suite evoked the American countryside, whereas the furious pizzicato and tonal dissonance of the Crumb sonata showed off a grittier side to solo cello repertoire.
"I thought it meshed really well," Sean Schultz '12 said. "I never felt as though one piece was out of place. It was really interesting in the way that [the contemporary compositions] broke with the structure of the other pieces. It was a good contrast with the rest of them it definitely injected some life."
Ma's performance coincides with both the Year of the Arts initiative announced by Interim College President Carol Folt over the summer and the Hopkins Center's 50th anniversary, and the decision to bring Ma back to Hanover has been a project long in the works.
"We wanted him in our great moment, our 50th year, not only because he has become this iconic artist in the world, but also because he has such a wonderful history of being a mentor," Hopkins Center Director Jeffrey James said. "One of the things we are trying to build our 50th anniversary around is the importance of mentoring, and we include faculty members in that picture of course."
Ma last performed at Dartmouth in 2001 with the Silk Road Ensemble, a group he founded with the purpose of exploring and promoting world music. In collaboration with music professor Ted Levin, the first executive director of the Silk Road Ensemble, Ma sought inspiration in the historic Silk Road that runs from Asia through Africa, as it is a channel through which information and ideas are shared across cultural boundaries.
"From the moment he left in 2001, it was my single-minded goal to bring him back," director of programming for the Hopkins Center Margaret Lawrence said.
The process of bringing Ma back to Dartmouth began several years ago, Lawrence said, but this goal became particularly important as the 50th anniversary approached.
"I started making sure [his manager] understood that this was do or die' for us," Lawrence said.
As part of the 50 year celebration, the Hopkins Center has built its concert season around the theme of mentorship.
"We ask [artists] to suggest another group that they feel they have mentored," James said. "We will then present them in conjunction with them or later in the season."
In Ma's case, that group is Brooklyn Rider, a string quartet composed of former musicians in Ma's Silk Road Ensemble. The Hopkins Center has commissioned a new work, "Brooklyn Almanac," the product of collaboration among jazz and indie composers Bill Frisell, Nik Bartsch of Ronin, Padma Newsome of The National, Ethan Iverson of The Bad Plus and Greg Saunier of Deerhoof, which will premiere on Jan. 18.
While Ma has served as a spark plug for many emerging artists on the national scale, the Hopkins Center also made a point of giving 25 Dartmouth Symphony Orchestra students the opportunity to sit in on his rehearsal, James said.
"We owe it to Dartmouth students to provide them with access to some of the greatest artists of our time," Lawrence said. "The beauty of the music that Yo-Yo Ma is able to make both technically, but also spiritually is something on its own level."
Tickets for Thursday's performance were almost immediately sold out, with one-fourth of them reserved for Dartmouth students, according to Rebecca Bailey, publicity coordinator for the Hopkins Center. Spaulding Auditorium seats 900 people. Ticket sales began over the Summer term, and students both on and off campus were able to purchase tickets for the event, Bailey said.
Ma's two-hour concert was met by universal praise for its balance in arrangement.
"Personally, I think Bach is difficult to listen to straight through just because it's so busy and the theme keeps bouncing around between upper and lower [octaves]," said Kameko Winborn '14, who visited Hanover during her off-term in Boston to see the performance. "It's hard to keep track of, so it's nice to have these kind of intermissions that are more melodic."
Ma's decision to incorporate lesser-known contemporary compositions alongside the very traditional Bach cello suites, for which he is best known, added a daring, risk-taking spirit to the concert.
"All [cello] performers make Bach one of their core tenets," Julia Floberg '11, a cellist and the Hopkins Center's classical music student relations advisor, said. Floberg said that Ma's ability to "break outside of the traditional classical repertoire" is what makes him such an adventurous performer.
Since the concert was a solo performance, many audience members felt a personal connection to Ma.
"We're hearing his soul," Peter Money, a resident of Brownsville, Vt., said. "This is a man who serves on a United Nations Council. I think any time a musician brings music to an audience, they're being an ambassador of sorts, and for him to cross borders to provide a language that's common to us all, it's something we can't get from the television or sound bites in the news."
Ma held his cello close to his chest throughout the performance and demonstrated a passion for his art while on stage. Sophie Choi '14 noted the degree to which he appeared to enjoy performing.
"I was just so impressed by how he became one with the cello. He looked so happy doing it," she said. "He throws his head back every once in a while, and he's smiling."
Ma's gorgeous vibrato and formidable tonal resonance filled the auditorium, but his great gesticulations added a degree of theatricality to the performance.