East explores faith, environmentalism in one-woman show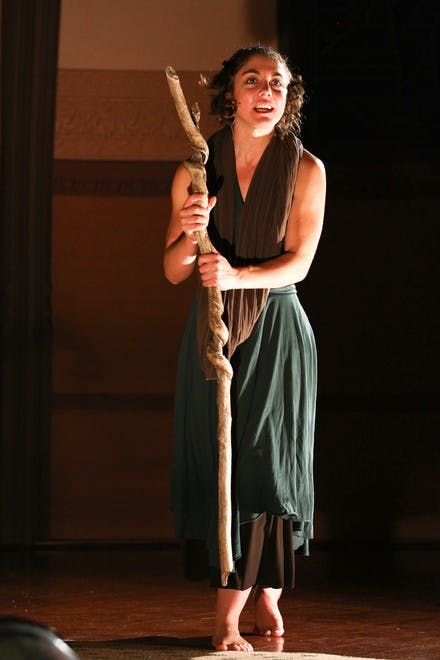 Monday night, Tevyn East's
Monday night, a surprising blend of economics, ecology and faith Tevyn East's one-woman show "Leaps and Bounds" came to Dartmouth's Rollins Chapel. East, who has spent the past six months touring the nation, transitions seamlessly from biblical stories to environmental commentary, from the personal to the national and global. Using varied techniques including song, dance, drama and oration, East worked during the performance to point out fundamental problems with our growth-centered economy and the toll such growth takes on society and the Earth.
"The show is my effort to integrate my creative work, to use these artistic tools, to support a critique of systemic injustice and be a catalyst for personal and political transformation," East said in an interview with The Dartmouth.
Throughout the show, East shared her personal anecdotes about growing up as a preacher's daughter. Yet according to East, she was also greatly influenced by her year spent researching and working for a faith-based advocacy group, the Maryknoll Office for Global Concerns. Both experiences contributed to East's desire to explore social injustice in the world.
East first began performing "Leaps and Bounds" earlier this year in the wake of the global recession. Living in Washington, D.C., at the time, East realized that we live in a "teachable moment," she said. Instead of advocating for the repair of the defunct economic system, she hopes for a new system that takes into account its effects on the world, not just profits. For East, bringing faith into the equation is one potential way of effecting change.
"Why I'm drawing in this faith element is to look at the values underpinning our current [economic] system and the values that could carry us into a different place," she said.
Susan Thomas, pastor of Our Savior Lutheran Church, one of the event's sponsors, echoed East's sentiment, saying that religion's effects are felt beyond the church.
"Christians have a kind of long history of having felt that we could dominate and do anything to the Earth. That is not the way that God intended people to function," Thomas said. "We have some kind of confession and renewal that we need to do as Christians."
East's performance humanized the need for change with impassioned speeches, songs and dances. Occasionally bordering on the hysterical, she forced viewers to feel her passion for the Earth and her anger at its mistreatment. Her compelling emotional honesty was powerful enough to bind the audience's attention.
Thomas who works alongside her husband Michael, the other pastor at the church said she hopes East's performance will inspire Dartmouth students.
"It's clear that this is this one planet for all of us, and for all faiths and those of no faiths, and so how are we going to care for this one planet? And how are we going to cooperate in this care?" Michael Thomas said.
Despite the religious basis of her performance, East left room for her listeners to find their own relationship with the Earth, religious or otherwise. Drawing parallels between such disconnected events as Moses' story and modern liberation movements, or the exponential growth of a child and the continued exponential growth of the economy, she blurred the distinctions between faith, science and economics. By encouraging such interdisciplinary thinking, East brought different morals and ideas as tools to tackle environmental problems.
Throughout her show, East compared the current economic system with its emphasis on gain and its pitfalls of credit, interest and debt to shackles and chains like those borne by the Hebrews in the biblical story of Pharaoh in Egypt.
"Ideally, there would be new energy, new hope, a new sense of what is possible and new levels of engagement," East said, noting that she must first break down the complacency with current social standards.
East said there is no specific program she hopes to inspire, but she ended her performance with what she calls a "utopian jam." Singing and dancing, she called for a return to local communities and awareness of the land and how it is used. How this will happen, however, she left for the audience to decide.