Jager-Hyman '00 shadows college applicants in new book
| 3/28/08 3:25am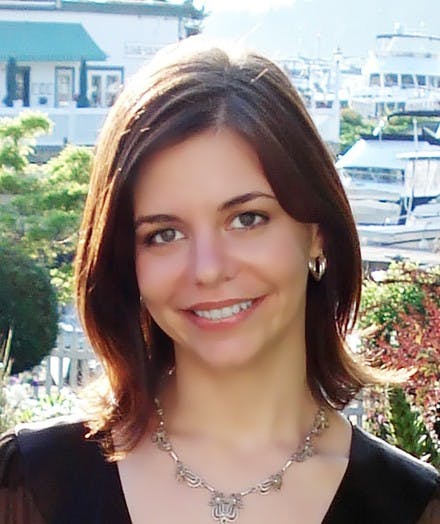 Joie Jager-Hyman '00
"They're are all relatable even though they're very exceptional and talented," Jager-Hyman said. "They're not perfectionist freaks and competitive monsters -- they're good people."
Jager-Hyman was initially inspired by "The Gatekeepers" a book which gives accounts from college admissions officers and "Chosen," which explores the history of the admissions process. Jager-Hyman chose to follow Harvard applicants because the school is a "wide net for ambitious people" and was the most prestigious school to which all five students applied, she said. Not all five students ultimately matriculated at Harvard, but they all told Jager-Hyman they were happy with the college that they chose.
"Fat Envelope Frenzy" is largely based on information from Jager-Hyman's graduate coursework in education policy and her experience working as the assistant director of admissions at Dartmouth. The book does not give advice on getting into college, but instead focuses on the student perspective of the college application process, which is explored less frequently, according to Jager-Hyman.
"It's different because it's about real people," Jager-Hyan said. "I do try to explain some of the background and the key elements of the process, but only in the context of what the kids are facing, only as it comes up in their lives."
Jager-Hyman originally chose to write the book when she attended a weekend seminar on how to write op-ed and features pieces.
"I wanted to show that college admissions decisions are not personal," Jager-Hyman said. "Admissions officers don't think, 'I'm making a personal decisionabout this applicant's merit or character or potential.'...It's competitive, it's not personal. They're building a class. I wanted to show that by following these kids. They're much more resilient than we're giving them credit for."
The book includes the history behind admissions policies and the SAT, and highlights how American colleges are different from other universities in other countries.
American universities have become increasingly competitive and higher in quality in the past decade, Jager-Hyman noted.
More than 70 colleges and universities have endowments exceeding $1 billion, and the number of applicants is at a historical high. Schools that were previously classified as second tier are now highly competitive, according to Jager-Hyman.
"It's the golden age of college education. It's made by the well-prepared, motivated, ambitious kids who are applying," Jager-Hyman said. "Students have great options, many more than they think."
The growing attraction of attending college has led to a rising apprehension about the admissions process, Jager-Hyman said.
The uncertainty surrounding college admissions had grown so much in Jager-Hyman's tenure at Dartmouth, for example, that people continued to seek her advice even after she had left the College.
"Third cousins would be asking me questions," Jager-Hyman said. "[The atmosphere] seemed to get more and more panicky and people were getting more and more anxious and less informed. The message of my book is really that life does not end after all this happens."
A philosophy major at Dartmouth and currently a Ph.D. student at Harvard University, Jager-Hyman originally became interested in admissions and education policy, the focus of her Ph.D., when serving as Dartmouth's Assistant Director of Admissions in 2000.
She observed many types of high schools in this capacity because admissions officers frequently travel to secondary schools across the country.
"High schools are fascinating," Jager-Hyman said. "I got to see how different resources prepare students differently. In a way, schools condition you to fail or succeed. Schools make a big difference in where you end up."
As an undergraduate, Jager-Hyman was involved in DREAM, Women in Science Project, the Undergraduate Advisor program and Fire and Skoal senior society. The Admissions Office hired her after her senior year.